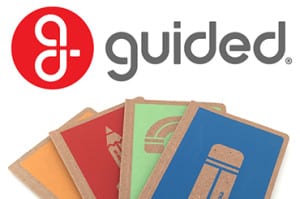 *** The Guided affiliate program is no longer active
There are few office and school supply stores more green and hipper than Guided Products. Offering recycled paper is one thing. Carrying a large line of Forest Stewardship Council (FSC) Certified recycled binders, CD cases, notebooks and plant derived paper protectors and writing pens, while providing some of the snazziest custom printing options available online, is taking it to another level altogether. And this is precisely what you will find at Guided.
Helping their customers save millions of pounds of greenhouse gases, thousands of gallons of water, trees, tons of solid waste and tens of billions BTU's of energy, Seattle-based Guided is certainly one of the largest, environmentally conscious office supply outfits we've come across. Just when you thought Guided couldn't do more to be a shining example of Earth stewardship, the company also employs a certified disabled workforce (Ability One) to assemble all of their binders.
In terms of affiliate marketing, Guided offers astounding potential to earn online revenues, as well as taking part in helping do more good in the world. Green products can be successfully marketed by spreading the word to graphics companies (many pieces are fully customizable with water-based inks), and other large office-based businesses looking to standardize internal office supplies with green products.
Cross-promoting also holds great potential by leveraging the fact that clipboards and binders are highly niche products used in a variety of trades and businesses, not to mention the fact that Guided is one of the only online destinations offering a sound alternative to non-recyclable, plastic CD/DVD jewel cases in the form of 100% recycled fiber CD/DVD sleeves.
Guided Products offers an affiliate program through ShareaSale, which is quite frankly, one of the best affiliate program networks in the business. Surpassing CJ and Google affiliate networks in terms of green merchants, ShareaSale, provides detailed tracking (60 day cookies), affiliate tools and handles all payments. Commissions start at 10%, with downline commissions available as well. In other words, ReBinder is one of the few green office supply stores offering a two-tier affiliate program. They get our topmost recommendation.