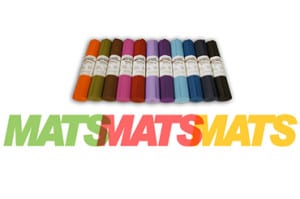 **UPDATE** The Mats Mats Mats affiliate program is no longer active.
MatsMatsMats offers more than just yoga mats. For any situation that might require some type of protective floor covering, MatsMatsMats has it covered, offering everything from foam dog matting (to protect floors) to soft bedding made from 100% recycled hypo-allergenic poly fiber.
MatsMatsMats bridges the yoga and meditation lifestyle with a selection of meditation supplies that include organic cotton meditation mats, cushions and meditation benches. They also offers a series of meditation audio CD's by Dr. Frederick Satori.
Regarding the yoga mats, there is a broad range to choose from, including 100% organic cotton mats, yoga studio mats, and even bulk matting by the foot. Yoga supplies include bolsters, foam/wood blocks, yoga bags and yoga stretching straps.
The affiliate program at MatsMatsMats is structured on a Cost Per Sale basis. For every purchasing referral, affiliates receive $3. For every second tier sale, flat commissions of $1 are paid. The affiliate software, which is managed in-house, provides sales statistics, a good selection of banners and buttons, and regular payouts on a monthly basis meeting a $25 threshold.
Unfortunately, the backend reporting platform for affiliates is highly antiquated and not transparent. Additionally, payouts are limited to $3 per order, which will equate to a far below-average commission rate on large order values and wholesale orders.