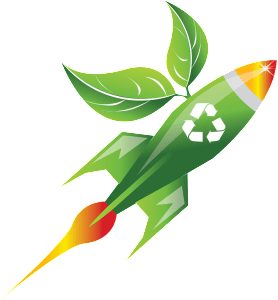 Shareasale is our preferred affiliate network of choice. Offering a "Green" category for merchants, which is unique to an affiliate network, Shareasale boasts an impressive cadre of hundreds-of-thousands of affiliates, including eco/environmental bloggers, health & wellness publishers, super affiliates, datafeed and LOHAS coupon affiliates. Joining the Shareasale network ensures your program will be poised to acquire highly targeted affiliates who are part and parcel of the non-greenwashing, eco movement.
Before an affiliate program can go live in Shareasale, all merchants are guided through the process of setting up several key program features. Doing so ensures the program will meet the minimum requirements for meeting the needs of affiliates.  The degree to which these program features have been strategically implemented will have a direct impact on affiliate signups and engaging new affiliates who join the program. While these steps can be completed yourself, many program features offered through Shareasale require advance knowledge to optimize.
For a one-time nominal fee, Green Affiliate Programs will oversee all aspects of strategically readying your program for launch and ensuring it makes a memorable first impression with affiliates, incentivizing affiliates to promote your products right from the start. Our Shareasale Setup Package includes the following:
Affiliate Signup Page – This is the page through which affiliates will sign up and apply to your program in the network. Affiliates are often introduced to your program by finding this signup page; Hence, it is very important your affiliate program signup page showcases your website and program in a strong light, focusing on specific components in "affiliate speak" that provide a strong case for why affiliates should join your program, especially super affiliates.
Auto-emails – There are two instances when auto-emails are sent to prospective affiliates: In reply to an affiliate request to join your program, and after said request has either been approved or declined. Of these, it is imperative the approval email is strategically written to activate affiliates to begin promoting your program right from the start. This can be done by offering affiliate incentives as well as making creatives readily available with corresponding tracking code in the body of the email.
PPC Policy – So as to avoid any unintended PPC campaign setbacks, it is required that all merchant PPC policies are available to affiliates at the time of signing up to your program.
Affiliate Agreement – This is the legal binding agreement which affiliates must agree to when joining your program. Policies regarding commission rules, coupon use, PPC bidding and trademark usage (among others), should be disclosed in this agreement.
Affiliate Banners – While this is not mandatory for launching your program, we highly recommend providing a set of engaging banners in various sizes (the minimum of which should include banners at 300×250, 728×90, 300×600 and 320×100) at the time of launching your program.
Text Link/Banner Upload – Strategically uploading text links (category and product links) and banners with proper alt-text attributes.
Datafeed Integration – Depending on your shopping cart, we will integrated your datafeed with Shareasale via automated ftp so that datafeed affiliates can search specific products to promoted and are kept abreast with accurate inventory status.
Global Commission Rules – Setting up of global commission rules ensures proper attribution and that commission payouts are contingent on touchpoint patterns in referred sales. Upon determining your PPC policy and how other marketing channels intersect with the affiliate channel, global commission rules ensure your margin is never being skimmed.
Tracking Code Installation
*Please note that instructions for tracking code installation will be provided by your tracking solutions provider. If you do not have an in-house web developer/programmer, we will provide tracking integration and testing.
Visit Shareasale to learn more about our preferred network of choice
Contact us today for a free consultation