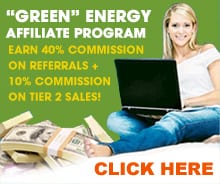 What better way to save energy than to become a certified home energy auditor? The Energy Audit Institute undoubtedly offers one of the best certification courses and provides home-study certifications at reasonable rates. With 30% commissions on referred signups (10% on the second tier), this is a popular niche affiliate program that can generate some great revenue…and save lots of energy!
The Energy Audit Institute is one of the leading online resources for obtaining an energy auditor certification. Accredited through the Energy Efficiency Association (energyefficiencyassociation.org), EAI's home training course includes 10 mailed lesson modules. Students take tests via a secure online testing center, and become qualified and accredited energy auditors in as little as two weeks. The course also includes a software package with industry-best programs to start a home energy audit business.
Home energy audits are becoming increasingly popular, and as a result, so are qualified home energy auditors. EAI's certification courses are in-depth and help aspiring independent energy auditors start their own business.
The affiliate program pays a generous 30% on first tier referral signups and 10% on the second tier. At $247 (a reasonable priced for a professional business certification), that equates to a $74 commission on tier 1 and a massive $7.40 tier 2 commission. EAI's affiliate program is managed in-house and powered by 1Shopping Cart.
Visit Energy Audit Institute | Signup through Website