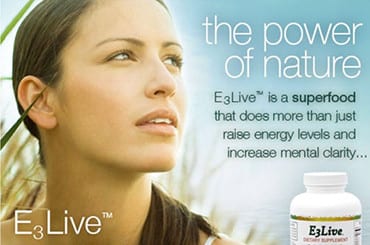 E3Live is a fresh-frozen, blue-green algae superfood. USDA Organic Certified, E3Live is one of the most healthiest natural food sources on the Earth. Filled with non-animal Omega 3's, E3Live provides long energy boosts, endurance, mental clarity and helps balance blood-sugar levels and overall biochemical processes.
The multi-tier affiliate program is hosted through Kowabunga Technologies MyAffiliateProgram Software, which gives affiliates instant access to traffic and commission reports and a variety of banners. Commissions are 20%, which considering E3Live's base selling price of $150, add up generously.
E3Live is one of the most healthy organic super foods available for purchase on the internet. USDA Organic Certified, E3Live is a blue-green algae harvested out of the Upper Klamath Lake in Oregon's Cascade Mountains. It is the most Omega3-rich non-animal food source available, thus making it a highly sought after super food. E3Live is also the freshest blue-green algae. Harvested and packed organically, E3Live is fresh-frozen in its natural state.
Minimum orders sell for $150, resulting in large commissions, which start at 20%. The affiliate program is managed through Kowabunga Technologies, and provides multi-tier commission and banner tracking for affiliates.
Affiliate Program Details:
Vision is a USDA organically and Kosher certified provider of organic blue-green algae (branded as E3Life) that is harvested in Upper Klamath Lake in the Cascade Mountains of Oregon. A highly healthy food source, blue-green algae is a daily staple for people across the globe. It is loaded with non-animal Omega 3's, thus nurturing healthy skin, hair and nails, it helps to balance biochemicals, raises mental alertness and provides long-lasting energy boosts.
Vision offers their original E3Life blue-green algae, as well as kelp soaps, skin care creams and nutritional supplements like probiotics, natural enzymes and hemp protein powder.
E3Life's affiliate program is powered by Kowabunga Technologie's MyAffiliateProgram software, which provides click-through and sales reporting, and easy access to banners and html text links. As an affiliate of a Kowabunga merchant, you also have access to Kowabunga's Kolimbo affiliate training center.
E3Life has a targeted banner selection, giving affiliates the option of sending referrals to informational landing pages, purchase pages and to the E3Life homepage. The affiliate software also provides marketing performance statistics on their banners, much like Commission Junction does.
Affiliates are paid a generous 20% commission on all sales (5 bottles of E3Life cost approximately $150). Affiliate referrals are also tracked by a 90-day cookie for crediting sales made at a later date.
Visit E3 Live | Program Signup Page