* Eco Hip is currently not taking new affiliates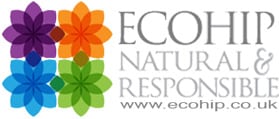 Based in the UK, Eco Hip's company credo is simple and to the point. They strive to provide all their customers with the best possible natural products available so a home stays hip and eco-friendly at the same time. This philosophy has put this 15 year-old company in the UK forefront as a favorite for affordable and catchy eco-products. Providing a wide selection of hip, eco-friendly house products ranging from their best-selling laundry balls and natural soap nut laundry detergent, to portable water ionizers and CFL light bulbs, Eco Hip offers a lot of the little things that help add up to create an eco-friendly lifestyle and lower Carbon footprint for the UK shopper. Think of Eco Hip as your "go to" for some very cool and unique, environmentally friendly products.
Eco Hip is more than an online eco-home products store. It is not just about selling a product that is good for you and the planet, it is about educating consumers as to why it is important to use eco-friendly house products that do not contain harsh ingredients such as parabens, DEAs, MEAs, TEAs, GMOs, artificial colors and the like. They use local suppliers whenever possible to reduce their own Carbon footprint, and use minimal, yet safe recycled material packaging. Sustainable materials are used whenever possible, and the company is an active supporter of fair trade products. In other words Eco Hip sets a high standard for ethical business practices.
There is more to Eco Hip than just being a store; it sells a lifestyle by transferring conventional thinking to a better understanding of why it is vital to protect the environment. By giving consumers affordable options for many of the products that get used the most, Eco Hip does a great job at making the eco-friendly lifestyle accessible and attractive.
Niche, top-line natural hair care, body/bath and suncare products can be promoted through EcoHip. Leading brands like EcoSoapia organic hand soap and Dr. Bronner's can be found here, as well as niche, unique item's like VarioSun's variable spf natural suncare products.
UK-based Eco Hip carries a small but unique selection of everyday-use energy saving products such as daylight simulation CFL's, USB Cell rechargeable batteries, the Plumen designer energy saving light bulb and the award-winning Sun Jar – a jar that litterally stores sunshine.
Accreditations:
Eco Hip belongs to the Soil Association. Products are endorsed through EcoCert; All products are cruelty free and are certified by PETA and BUAV.
Affiliate program details:
Affiliates earn a default 10% commission on 1st tier conversions and 2% on 2nd tier conversions. A generous 365-day cookie covers all affiliate sales. In-depth drill-down reporting, custom linking, banner placement rotation and data feed downloads are some of the tools offered through Performance-Based.
Of Note:
Additionally, upon touring the eco hip home store, we noticed they are heavily engaged in the social media realm via Facebook, Twitter, and a great blog. Their press includes features in a vast amount of well known magazines and periodicals – a great resource so you can get an even better idea of just how popular Eco Hip products are, not to mention great inspiration for affiliate content.