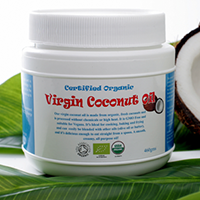 Coconut Oil UK carries one of the finest, highly accredited virgin organic coconut oils on the market. Certified organic by Organic Herb Growers of Australia and the USDA, this non-GMO coconut oil is also Vegan and Fair Trade certified. Worldwide affiliates earn 5% commissions on sales, largely shipped throughout the UK. The coconut oil Uk affiliate program is managed in-house and hosted by JEM Software provided by JROX.
Organic virgin coconut oil is in high demand in the UK. Helping meet this demand is Coconut Oil UK, a supplier of one of the best rated virgin organic coconut oils available for online purchase in Europe. An outstanding niche product that's very popular with the eco-conscious, Coconut Oil UK pays 5% commissions via an in-house managed affiliate program hosted by JROX affiliate software.
While they will ship anywhere in the world, Coconut Oil UK is perfectly suited for promoting to the UK/Euro healthfood demographic. Certified organic by Organic Herb Growers of Australia, this vegan, fair-trade coconut oil is reasonably priced, and with free shipping for UK customers, converts well. Affiliates earn 5% base commission with 60-day cookie tracking. Affiliate software powered by JROX.
Company Details
This UK based online retailer of 100% unrefined organic virgin coconut oil provides consumers not only easy access to buy virgin coconut oil, but all the useful information, tips, cookbooks, and overall help any customer could ever need to maximize their experience when purchasing virgin coconut oil. Their product information transparency is refreshing and their dedication to providing high-quality, unrefined organic virgin coconut oil to the marketplace makes Coconut Oil UK very appealing to affiliates looking to promote them.
While most of their business is generated throughout Europe, they provide worldwide shipping and anyone anywhere can buy virgin coconut oil here. Customers are greeted with several different savings opportunities and product quantities based on the amount they desire (free samples). Whether the consumer interest is skincare, hair care or culinary, the products are supported with helpful information. If you (or your customers) happen to be in the UK, they never charge postage or shipping costs. Their unbiased customer feedback touts them as the best coconut oil available.
Product Details
This unrefined cold pressed coconut oil is certified organic (through all stages of growth and production) and non-GMO. Coconut Oil UK institutes strict manufacturing controls, such as the specific identification of which group of trees a particular batch of oil originated. Their virgin coconut oil is a Fair Trade Certified product. This coconut oil is made completely from coconuts, not other supplemental ingredients such as copra (typically used in lesser quality coconut oils). Production of this coconut oil comes from traditional palm coconut, cold pressing, unrefined, no bleaching; it is non-hydrogenated, manufactured at low heat levels, and chemical free. These are simply the highest quality ways to make the best coconut oil products. Certified by Organic Herb Growers of Australia and accepted to the Soil Association in the UK, this product is the real deal. Product is never tested on animals. Sold in convenient 460ml "pot" size, this unrefined oil is useful for several different needs.
Affiliate Program Details
Coconut Oil UK uses JEM software provided by JROX (jrox.com) for its affiliate sales tracking. Free signup and a £5 bonus is rewarded just for joining. All sales earned generate at least 5% commission. A 60 day cookie allows plenty of time for your visitors to decide and buy virgin coconut oil. You are paid monthly by PayPal, check, or bank transfer. Minimum threshold for commission payments is £50. A minor selection of banners are available. All tracking is reportable.