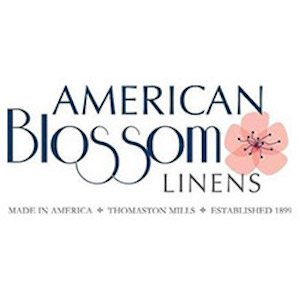 Summary
American Blossom Linens makes high-quality natural fiber bedding and bath products that are 100% "grown & sewn" in the United States. The company was founded in 2018 by Thomaston Mills, a family-owned textile mill that has been in business since 1889 and is known for its durability and comfort.
Given that American Blossom Linens' products are sourced in the United States and manufactured here,  they qualify for what we consider "shop local" sustainability. They also do not dye their fabrics, use synthetic chemical treatments or blend with synthetic fibers, which contribute to the majority of the pollution from the textile industry.
American Blossom Linens are designed to last. The company uses high-quality materials and construction techniques to ensure that its products will withstand years of use and can be considered an heirloom item. They are even favored by such hotel brands as Hyatt, Marriott, and Sheraton.
If you're looking to promote products made in the USA with quality and durability front of mind, then American Blossom Linens is a great option
Commission
8%
Cookie
60 days
Platform
Shareasale
Datafeed
Yes
These affiliate programs promote products made in the United States. They invest in a more sustainable and resilient business model by ensuring their supply chains are more local, and their manufacturing supports their local economy. American-made affiliate programs are a great choice for marketers passionate about promoting made-in-USA businesses.